Elder Care Recipes: Portobello Mushroom "Steaks" on the Grill
Elder Care in Bothell WA
Nothing says summertime like heading out into the backyard for a cookout. Grilling your dinner is a fantastic way to prevent heating up the home by turning on the oven or stove, cut out a lot of the fats and oils used in many types of indoor cooking, and enjoy the delicious flavor only grilling can impart while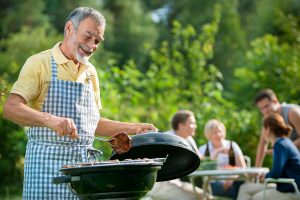 also spending quality time with your loved ones. If your elder care plan for this summer involves grilled meals once or twice each week, however, you may find that your aging loved ones are consuming far more red meat or pork than you would like.
The occasional indulgence in a juicy hamburger or crisp sausage is fine, but if you want to preserve your parents' health and make sure they diet stays balanced and healthy during the hottest months of the year it is important to look for alternatives to these frequently high-fat, high-calorie meal options. This recipe is for a Portobello mushroom "steak" so delicious and satisfying it will please even the pickiest meat eaters in your life. Since this vegetarian-friendly steak is replacing the meat in your grilled-out meal, you will want to make sure you add another source of protein into your menu. Quinoa and tomato salad, deviled eggs, and marinated tofu are healthy and delicious options to add protein to your meatless meals.
What You'll Need
• Portobello cap
• 1 tablespoon butter
• 1/2 garlic clove
• 2 tablespoons soy sauce
• Coarse ground black pepper
• Aluminum foil
• Sharp knife
• Paper towels
What to Do
• If there is dirt present on the Portobello cap, dampen several paper towels and wipe it away. Do not run the mushroom under running water or submerge it as these will cause it to absorb water and become rubbery and tough
• Remove the stem and chop it into small pieces
• Place the cleaned cap on top of a double layer of aluminum foil, smooth side down so that the gills are facing up
• Remove the skin from the garlic clove, crush it with the side of the knife, and mince it finely
• Sprinkle the minced garlic over the gills of the mushroom cap, making sure they are evenly dispersed across the mushroom
• Add coarse ground black pepper to taste. Remember that coarse pepper has a stronger flavor so if you do not like the pepper flavor or do not like spicy food, be cautious in the amount you use
• Sprinkle the chopped mushroom stem on the cap
• Chop the tablespoon of butter into small pieces and distribute them on the gills, making sure there are pieces of butter on all areas of the mushroom
• Drizzle the mushroom with soy sauce
• Wrap the aluminum foil around the mushroom cap, closing it firmly on the top to create a packet. Make sure there are no gaps on the sides or bottom where juices may escape. If there are, wrap the entire thing in another layer of aluminum foil
• Place the mushroom packet on a hot grill and cook for 25 minutes or until the mushroom is soft but still has a meaty texture
• Slice the Portobello "steak" and serve with your favorite accompaniments
If you or an aging loved one are considering hiring elder care services in Bothell, WA, call Guest Home Care. Our compassionate staff is happy to speak with you about your needs. Call today 425-268-7988
Over the years, the founders of Guest Home Care, Bruce and Rose Guest have developed a deep passion for helping other people. They believe that every person deserves to be treated with dignity and respect.


In order to better assist and care for those who can't fully care for themselves, Bruce and Rose started Guest Home Care.


Their goal is to provide a higher quality of care by hiring, training, rewarding, and retaining exceptional caregivers. They invest in their caregivers because they know that quality client care begins with happy caregivers. For client satisfaction, caregivers are matched to clients according to client needs and a personality fit.


Bruce has a business background, including several years of experience in business ownership. Rose was a business major in college. While in college, she began working as a caregiver and found it to be a very rewarding experience. She continued to work as a caregiver whenever she could. Later, Rose went on to get her Nursing Assistant Certification (NAC), and vocational nursing training. She worked as a full-time caregiver for over 7 years, and was well loved by all of her clients.
Latest posts by Bruce Guest (see all)