Caregiver in Lynnwood VA
Caregiver stress is one of the most common issues related to stepping into the role of being a family caregiver for elderly parents. The vast majority of family caregivers deal with some level of stress, which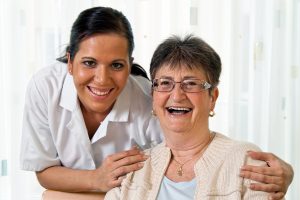 puts you at greater risk of exhaustion, physical illness, burnout, and mental health concerns. This stress can make it much more difficult for you to handle the daily challenges of giving your senior loved ones the care and assistance they need, and could result in the quality of your care suffering. Finding ways to ease and control this stress protects your health and wellbeing, and ensures you remain the best caregiver you possibly can.
There are many ways you can manage caregiver stress, from taking up yoga to using positive affirmations throughout the day to maintain your focus. Some creative techniques, however, involve little changes you can make throughout your life that calm your mind, lift your spirits, and help you manage your stress continually.
Try some of these creative ways to ease your caregiver stress and maintain a healthier, more balanced outlook:
• Create a comfortable car. You spend a considerable amount of time in your car, so make it a peaceful and comfortable environment where you can relax. Even if your car is where you eat most of your meals, never leave trash or empty containers in it. Clean your car regularly, including vacuuming and deodorizing the interior and washing the exterior. Choose an air freshener that you love and keep it in the car so that when you get in, you are in calm, peaceful surroundings
• Take care of yourself. Caring for yourself is key to being a good caregiver for your elderly parents. Indulge in high-quality body products or use essential oils and natural bases to create your own. Taking the time to bathe and nourish your skin with wonderful-smelling, nurturing products helps you relax, and enjoying the fragrance throughout the day gives you a boost
• Keep your spouse close. Your caregiving activities often mean taking time away from your spouse. This removes an important source of emotional support and calming for you. Help reduce this emotional stress and give yourself moments of calm by bringing a shirt or handkerchief of your spouse's along with you on your caregiving errands. Looking at, holding, or smelling this item helps you feel closer to your spouse and gives you a sense of wellbeing
• Create a ritual. The concept of a habit usually has a bad connotation, but having a nightly ritual can actually be a powerful way to ease stress and keep yourself feeling calmer. This works both by giving you something to look forward to during the day and by having something remain reliable and consistent, which gives a feeling of grounding and control. Choose something simple that you enjoy, whether it is a sipping a cup of your favorite flavor of hot tea or watching the same movie. Stay consistent with the activity so it triggers a conditioned feeling of relaxation and centering.
If you or an aging loved one are considering hiring caregiver services in Lynnwood, WA, call Guest Home Care. Our compassionate staff is happy to speak with you about your needs.  Call today (425) 268-7988.