Home Care in Everett WA
Home care covers a wide variety of care and services. This allows elderly people who are experiencing mobility issues, health concerns, or other struggles to receive assistance within the home.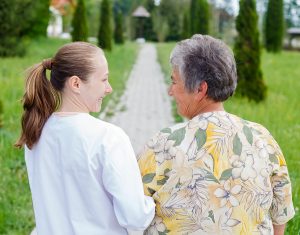 What Does Home Care Include?
A companion is provided primarily for supervision and to provide conversation and interaction with the senior.
Assistance with personal care can be delivered on a regular basis in the way of grooming daily, light housekeeping, running errands, and whatever else is needed.
Constant caregiver presence throughout the week to ensure the senior's safety, well-being, dietary needs, and emotional needs are being well monitored.
How is Home Care Beneficial to Seniors?
No matter how much extra care is necessary, from occasional visits to daily meal preparations, in home care is beneficial to seniors by allowing them to receive care within the comfort of their own home. For numerous individuals, remaining within their homes while surrounded by what is familiar and within their communities plays an integral role for continued quality of life.
What if The Aging Senior Rejects the Idea?
Sometimes, the idea of home care might cause some anxiety for seniors. They may initially reject the idea of a caregiver at first, but there are ways to help them understand the benefits of home care.
Bring in extra puzzles, games, crosswords and other playful ideas to help their new companion introduce playful moments to their time together.
Stock up on craft supplies that the loved one already uses, as well as some they can learn how to use with their new elder care companion. That way, they're not stuck in front of the TV all the time.
Family members should interview and hire the companion who is most fit to care for their loved one.
Is In Home Care an Unusual Idea?
Families who are considering hiring home care and keeping their loved one in their own home are not alone. This idea, often referred to as aging in place, is a common preference for families as well as for seniors. Seniors who have already moved in with their families would rather receive home care, as well, in comparison to moving into facilities. Home care providers are an excellent option for family members who are in need of a break, who are not trained with regards to meeting elder care needs, and for families who lead busy schedules. Bringing in a home care companion helps alleviate the guilt associated with not being able to spend as much time with loved ones that many family members experience, as well.
If you or an aging loved one are considering hiring home care services in Everett, WA, call Guest Home Care. Our compassionate staff is happy to speak with you about your needs.  Call today (425) 268-7988.