Home Care in Seattle WA
For most elderly adults, even if their care and assistance needs are minor at the beginning of a home care relationship, these needs will increase over time. Whether it is worsened physical and mobility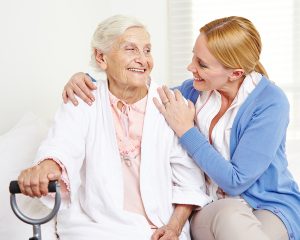 limitations or the progressive challenges associated with Alzheimer's disease and other forms of dementia, as your elderly loved ones' needs increase, it is vital to make modifications to their elder care approach that address these needs and ensure they continue to live the highest quality of life possible.
One of the ways many family caregivers adapt to the increased needs of their elderly loved ones is by transitioning them into their home. Having your aging parents live in your home with your family removes the stress of them having to manage their own home, saves money, and makes it easier to ensure there is someone available at all times to give them the care and assistance they need.
When considering transitioning your elderly loved ones into your home, one of the important decisions you must make is whether to continue their home care relationship after their leave their own home and move in with you. When making this decision, you must determine if having your senior parents in your home with your family is enough to address all of their care and assistance needs.
It may seem like having your parents with you should eliminate the need for additional care providers. This, however, is not necessarily the case. It is important make sure you maintain the level of care that is appropriate for your senior loved ones regardless of where they live, which might mean transitioning their home care relationship along with them.
Ask yourself these questions to help you determine if your parents should still receive care from their in home health care services provider after moving into your home:
• How much care did your parents receive while they were in their own home?
• Do their increased needs mean they should receive more hours of care on a daily basis?
• Are you or another responsible member of the family available in the household this same number of hours to provide care for your elderly parents?
• Do your parents require care during the night that would mean you or other members of your family do not get enough sleep?
• Do your parents have care requirements that are too physically or emotionally challenging for you to handle on your own, such as bathing, dressing, toileting, or helping your parents handle incontinence issues?
• Are you comfortable managing needs such as feeding or providing medication reminders?
• Are your parents receptive to you as their caregiver or would they be more comfortable receiving care from a professional care provider?
• Do you feel you have the energy and emotional strength to add full-time care of your elderly parents to your existing obligations?
• Do your parents require such extensive care that you would not be able to leave them alone in the home to do things like run errands or pick your children up from school and other activities?
If you are considering transitioning your elderly parents into your home, get in touch with the elder care agency in your area for guidance and recommendations about how to make this care arrangement as successful as possible for everyone involved.
If you or an aging loved one are considering hiring home care services in Seattle, WA, call Guest Home Care. Our compassionate staff is happy to speak with you about your needs.  Call today (425) 268-7988.